Welcome to Back to Sash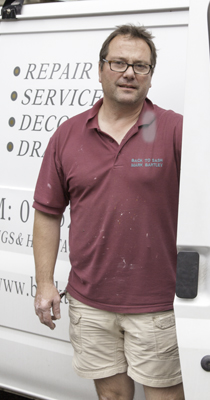 Back to Sash is based in the Peak District of Derbyshire and Mark is pleased to visit your home, discuss your needs, advise on what work is necessary and provide a no obligation quote. Work is either carried out on site or Mark will take the sash back to his well equipped workshop for more complex reapairs.
Mark Bartley qualified in Carpentry and Joinery back in the 1990`s whilst working in Retail Management but after moving to the Peak District in 2006 decided to re kindle his love of working wood. Mark says "We bought a grade II listed building with 9 sash windows, all in various states of repair. Some rattled; some let a gale through while others were held together by the paint. We had to restore and retain the historic character of these windows and whilst tracking down products for this task I decided to set up a property maintenance business, with the aim of restoring and draught proofing the Box Sash Window"
If you love timber sash windows and want to preserve our historic heritage then Back to Sash can offer timber and resin repair, draught proofing, glazing and comprehensive pulley and weight maintenance.
To date I have worked on listed buildings, heritage properties and private houses throughtout Derbyshire and South Yorkshire. I have sourced tools and materials to repair and seal even the most dilapidated windows. If I have described some of the problems that you face, then please contact me for further information and prices.
During the winter months Mark will work on interior joinery and carpentry projects e.g. fitted cupboards, flooring and first and second fix carpentry. Please feel free to contact me to discuss any joinery work.